Best Gifts for Men Under $50 in 2022 [Amazon Cool Gifts for Guys]
>> Affordable Amazon Gadgets and Cool Devices for Guys
by Jack H., Editor and Review Contributor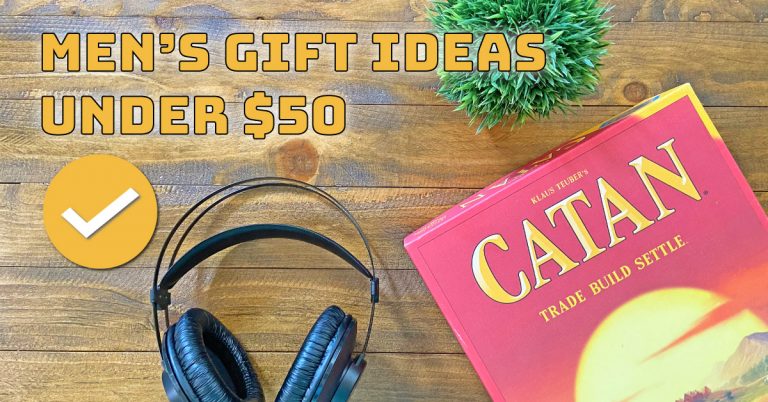 Need great gift ideas for guys? Here are the best gifts for men under $50 in 2022. This list of gifts for men (Amazon) has awesome, affordable Amazon gadgets and cool devices for guys that won't break the bank and will definitely impress the guys in your life.
I'm a guy, and I'll admit it: it's hard to find fun gifts for men. How do you find the best gifts for men who have everything? This is especially difficult because holidays and birthdays are always seemingly right around the corner.
Never fear! We'll help you find the perfect gift for guy friends, sons, or husbands. We review tons of new products and are always on the lookout for cool Amazon gift ideas for men. Ready for our list of cool Amazon products for him?
Here are some great gifts for men under $50 on Amazon in 2022:
Get rid of flies and have fun at the same time with the new Bug-A-Salt 3.0! Uses normal table salt, does not require batteries, and comes with a 1-Year Warranty. This Amazon gadget is a unique gift that many guys will enjoy, and will help keep pest insects out of the house.
Great men's gift idea for: marksmen.
For men who don't want to fuss with Bluetooth pairing, the AKG K52 headphones are a sensational value, offering a compelling price-to-performance ratio. These lightweight headphones feature an over-ear, closed-back design. And the sound quality can compete with far more expensive headphones. 
Great men's gift idea for: audiophiles.
Victrola Vintage 3-Speed Record Player
This Victrola Record Player is the perfect retro tech gift for the guy in your life. This is one of the best affordable record players, allowing you to play records through the built-in speakers or headphone jack. This portable record player has an elegant design, with a rugged case with handle for taking it anywhere.  Comes in a wide variety of cool colors and designs. You can even use it as a standalone Bluetooth speaker. It's cool.
Great men's gift idea for: hipsters and old souls.
From the makers of Exploding Kittens, Throw Throw Burrito is like a card game combined with dodgeball. Play with 2-6 players, quickly matching cards. During the game, certain matching games will cause a "burrito brawl" or "burrito duel". When that happens, players will toss the plush burrito toys at each other. This game is incredibly unique and a lot of fun!
Great men's gift idea for: anyone who loves fun party games.
This incredibly popular board game is based around civilization building, while harvesting and trading resource cards. This is a great game for both families and groups of friends. Up to 4 players, ages 10 and up.
If they already have the base game, you can gift the Catan Expansion – Seafarers, which offers additional content and is also very well reviewed.
Great men's gift idea for: board game lovers.
ENO SingleNest Lightweight Hammock
ENO, Eagles Nest Outfitters, has been making high quality, lightweight camping hammocks for many years. The SingleNest hammock packs up tightly and is ready to travel anywhere. ENO uses a very lightweight material that is also highly comfortable. Backed by a 2 Year Warranty.
While this is one of the best gift ideas under $50 for guys who love to camp, this is also a great gift for college students. There's nothing better than studying, or just relaxing, between two trees.
Great men's gift idea for: guys who love to camp.
Amazon Fire 4K Streaming TV Stick
Touted as the "most powerful 4K streaming media stick", Amazon's Fire TV stick is a cool device and a great way to stream Netflix, YouTube, Prime Video, Disney Plus, Apple TV, and HBO(note: these do require a subscription to watch, though there are some free streaming services like Pluto). This Amazon gadget is a great gift for a dad who wants to get rid of cable, or a friend who wants to stream on the extra tv.
Great men's gift idea for: guys who love tv and movies.
French Press Coffee Maker
For coffee lovers, nothing compares to a fresh, handmade cup of java. This handsome Chambord French press makes fresh coffee in just 4 minutes: just add the coffee grounds, hot water, and press! Looking to gift the ultimate coffee experience? Add an electric coffee bean grinder, which lets them grind their own coffee beans, for an ultra fresh and awesome tasting cup of coffee.
Great men's gift idea for: coffee lovers.
Backyard Golf Cornhole Game
Lots of men love to play golf, which makes golf gifts very popular. But this is a really unique golf gift under $50! The GoSports BattleChip Backyard Golf Cornhole Game is a fusion of cornhole and golf. This game is great for competing with others, or just for practicing your chipping game in the backyard. Includes everything to play (except the golf clubs!): the target, turf hitting mat, 16 foam golf balls, and dry erase scorecard.
Great men's gift idea for: guys who golf.
Audible Audio Book Subscription
Let's face it: some guys have everything and just don't want more stuff. Audio books are a great way to read on the go: while driving, at the gym, or at work. Give your guy the gift of productivity, knowledge, and entertainment with a 3 month Audible Subscription for less than $50. You guys can listen to as many audio books as they want, and will also receive one credit a month for an audio title they can keep forever. This gift is easy to send electronically, and Amazon will deliver the gifted subscription via email.
Great men's gift idea for: men who have everything.
Whiskey Stones and Glasses Gift Box Set
Recently, whiskey and bourbon have become incredibly trendy. Today, more guys are enjoying the Kentucky juice than ever before. This classy boxed gift set is perfectly paired with a good bottle of whiskey, or as a standalone gift. Includes 2 whiskey glasses and 8 stone whiskey rocks (used instead of ice cubes so they won't water down your drink).
Great men's gift idea for: guys who love whiskey and bourbon.
Cast Iron Skillet with Lid
Great chefs know what useful cooking tool a good cast iron skillet can be. This 12″ Legend Cast Iron Skillet comes lightly pre-seasoned and is well reviewed, making this a solid addition to our list of great gifts for men under $50. Features an extra long handle and heat-resistant holder. Includes Legend's "Forever Warranty". 
Great men's gift idea for: guys who love to cook.
Mini Drone with Remote Control
Up Next: Best Massage Gun for the Price? 
Check out our in-depth review of the new Vybe Pro here.