>> Is this Magic Keyboard Alternative the Best Keyboard under $100?
by Jack H., Editor and Review Contributor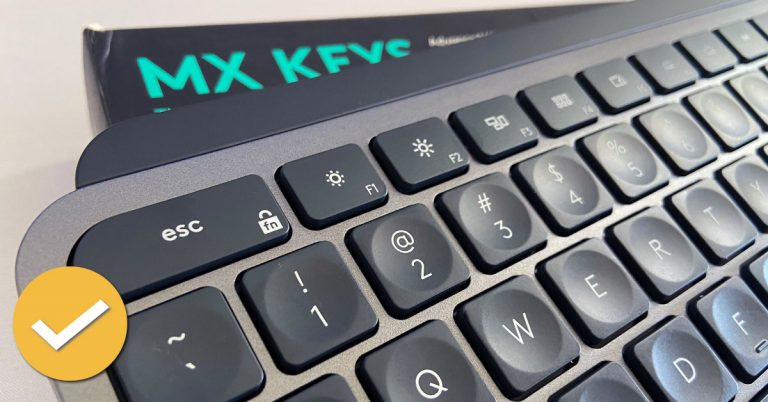 In this MX Keys review, we'll take a look at the new Logitech keyboard and see if it's really the best keyboard under $100 for professional use.
Today, there are more computer keyboards on the market than ever before. That means customers have many options to find the best keyboard to fit their own uses and preferences.
If you're willing to pay more, a premium keyboard offers an enhanced typing experience. For users who spend hours on their keyboard daily, the price can be worth it.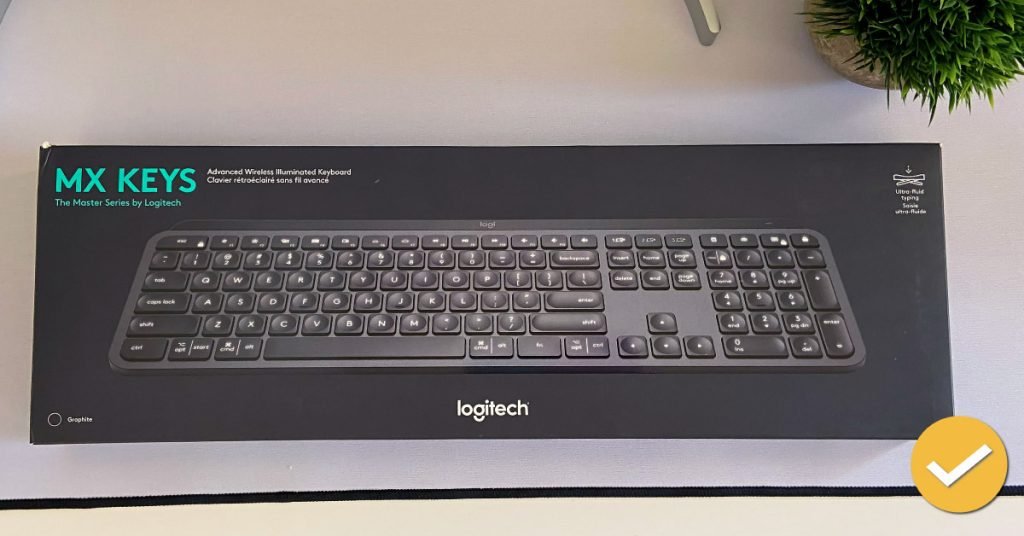 MX Keys Review: A Premium Keyboard
The Logitech MX Keys is a new premium keyboard offering. And this new wireless Logitech keyboard is fairly expensive, but still cheaper than the Logitech Craft with creative input dial.
After building a new PC build this year, I was looking for the best keyboard for programming, writing, graphic design, video edits, and other productivity and creative tasks. I was also looking for the best non-mechanical keyboard to use when I wasn't gaming. To that end, I purchased Logitech's MX Keys keyboard.
Is this the best wireless keyboard in 2022? Here were my results.
What's in the Box:
USB unifying receiver
USB-C charging cable (type A to type C)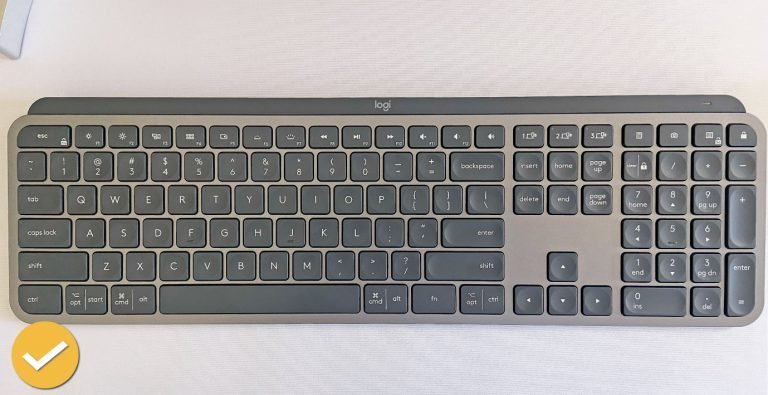 Logitech's new full size wireless keyboard touts metal body construction, spherically dished keys, and a sleek, low profile design. Includes a USB receiver and charging cable. Compatible with Mac and PC.
Design and Construction
One of Logitech's latest keyboards, the MX Keys looks like the study, professional tool that it is.
Weighing 1.8 lbs (0.8 kg), the MX Keys' metal body has considerable heft, lending to its stable typing experience. Still, this is a small full size wireless keyboard that has a minimalist keyboard feel.
The Logitech warranty included is a one year limited hardware warranty.
Durable, High Quality Keys
Each key is made of a dense, high quality plastic and has a spherical indentation to fit your fingertips. The keys are well fitted into the keyboard body and there is very little key wiggle.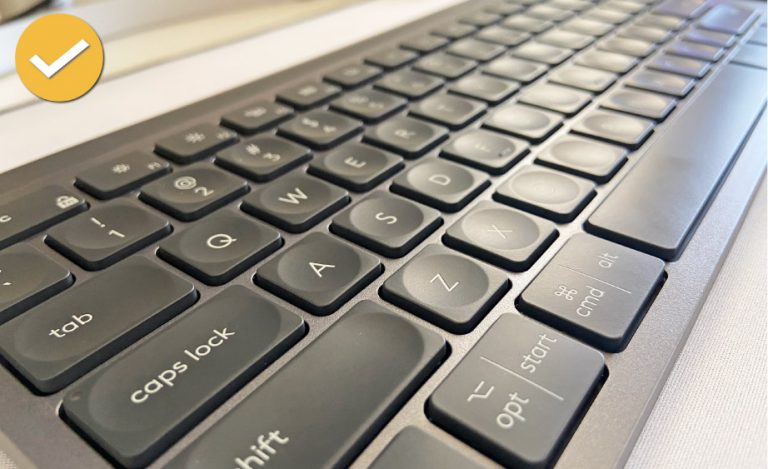 Typing Experience
The MX Keys is a membrane keyboard, and doesn't quite offer the firm, tactile response of mechanical switches on a mechanical keyboard. Still, the MX Keys offers an excellent typing experience, and is easily one of the best non-mechanical keyboards I've ever used. And it's much quieter than mechanical keyboards.
The MX Keys has "Perfect Stroke" keys that use a scissor switch. Being a low profile keyboard with scissor switches, these keys have low travel and do not require much actuation force.
The keys do not feel wobbly at all, and each keystroke feels solid and precise. This is one the best typing quality keyboards I've ever used, and feels comfortable over hours of programming, writing, or media creation.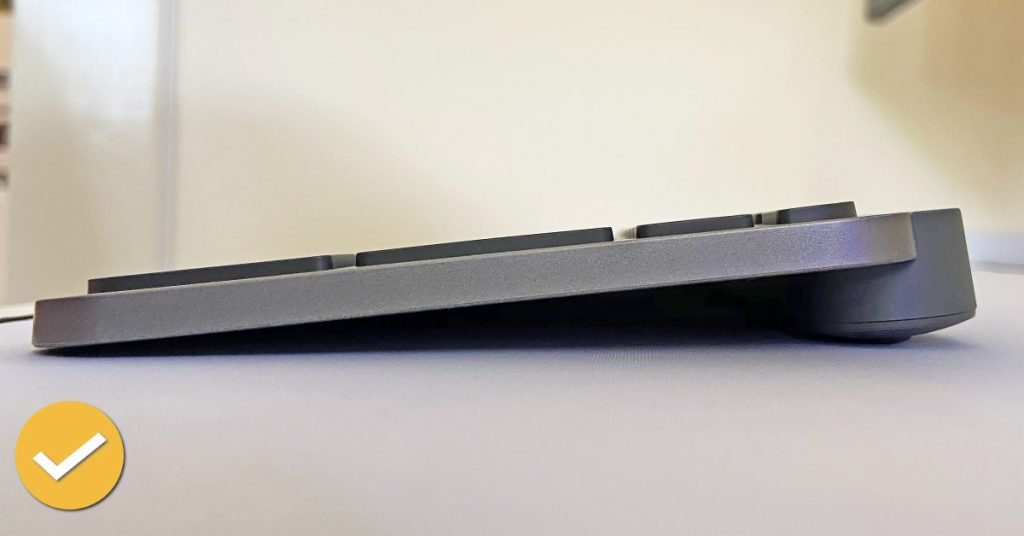 The Best Keyboard for Programmers?
The spherical indentations on the keys are designed for added stability and to help prevent typos. Although this sounds kind of gimmicky, these indentations do feel nice and add to the overall typing experience. This makes MX Keys a great keyboard for authors, programmers, or anyone typing many words per minute.
Noise
This is a very quiet keyboard, but not a totally silent keyboard. Each keystroke provides a satisfying, yet muted, click. The typing noise is very minimal and should not disturb anyone else in the room.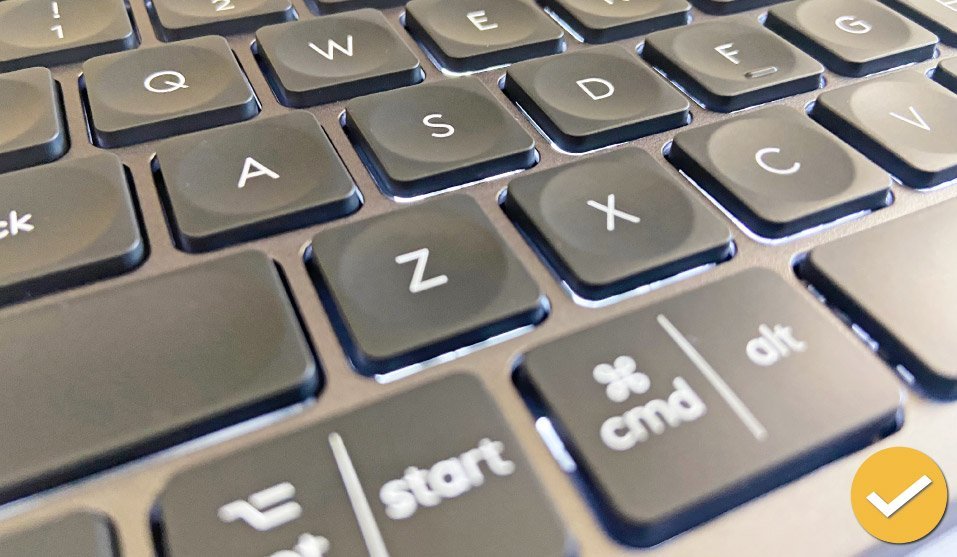 Backlighting
The MX Keys is an illuminated wireless keyboard, with individually backlit keys. As a keyboard designed for professional users, the MX Keys is a non-RGB keyboard. No RGB lighting here! Each key is elegantly backlit in white, a nice contrast to the dark gray keyboard body.
The keyboard also features a proximity sensor, and will instantly light up when you move your hands near the keys. The MX Keys is one of the best backlit keyboards I've ever used, easily matching or surpassing the lighting offered by Apple's keyboards.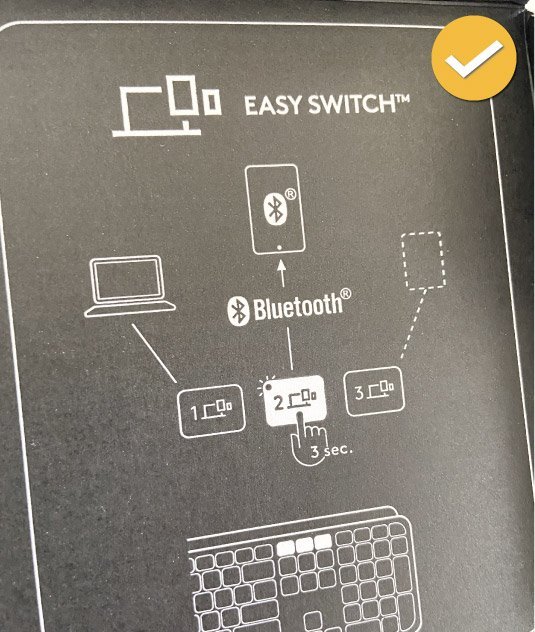 Connectivity
The Logitech MX Master software is called Logitech Options, and will allow you added customizability, including reprogramming keys. Battery life is rated at 10 hours with backlighting or up to 5 months (!) with backlighting disabled.
The MX Keys is a Logitech Flow keyboard, which is perfect for people who work on multiple computers. This handy feature allows you to connect the keyboard to multiple computers at the same time, using the dedicated keys to quickly change between them. You can even share the keyboard between a Mac and PC system. Pretty cool.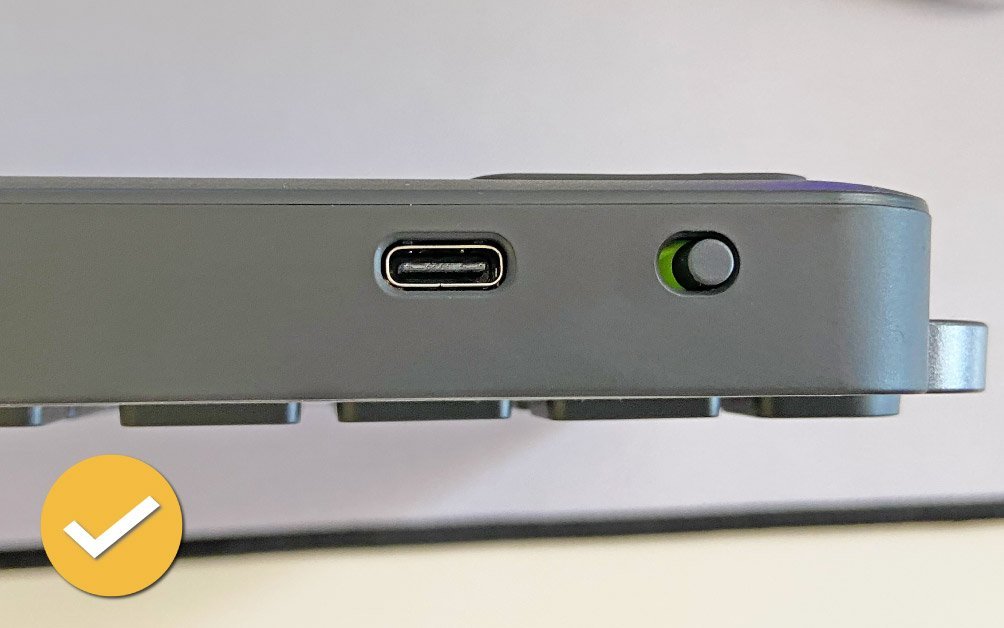 How to Charge MX Keys
To charge MX Keys, simply plug the included charging USB cord from the USB-A side (connected to your computer) to the USB-C keyboard port on the MX Keys.
How to Connect MX Keys to Mac or PC
The MX Keys effortlessly connects to Macs and PCs using either the included USB unifying receiver or via Bluetooth. I've been using Logitech's USB receiver with great results and no noticeable input delay.
A full size keyboard, this MX Master keyboard is part of Logitech's MX Master series, and can be paired with the Logitech MX Master 3 mouse.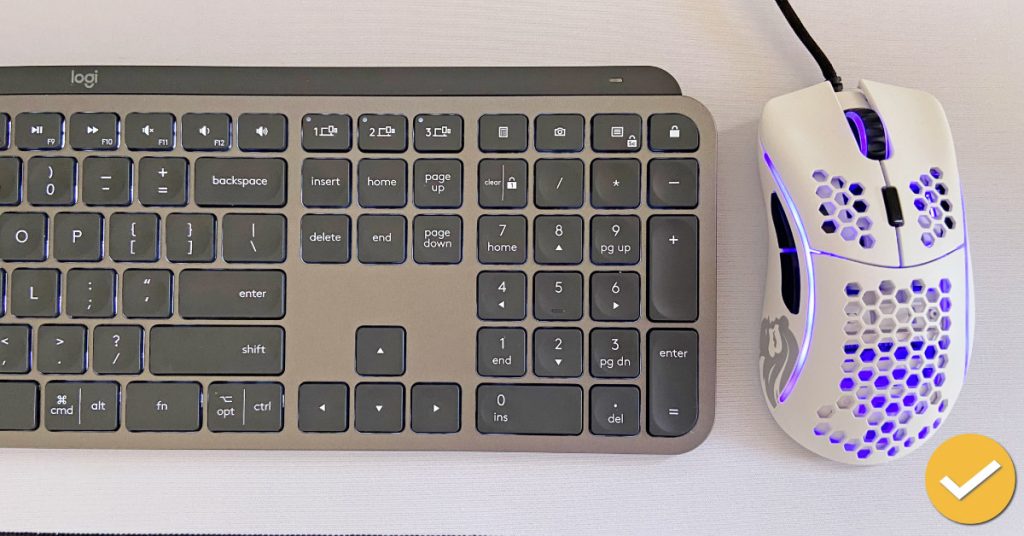 The Best Apple Magic Keyboard Alternative?
As a long-time Mac user, for both personal and professional use, I am very familiar with Apple's Magic Keyboard. 
That's right, I have spent thousands of hours with Apple's keyboard. It's a good minimalist, low-profile keyboard with solid construction and a pleasant typing experience. I like it.
Logitech's MX Keys is clearly inspired by Apple's Magic Keyboard. It's classy, sleek, and simple.
Is MX Keys better than the Magic Keyboard?
Logitech's MX Keys is incredibly similar to Apple's Magic Keyboard.
In fact, these keyboards are so similar, that neither is clearly superior. It comes down to personal preference.
The MX Keys is simply a great Mac wireless keyboard, and a good replacement for the Magic Keyboard.
Note: This year, Logitech has also released a Mac version of the MX Keys. If you only plan to use this keyboard with a Mac, it may be the better option for you.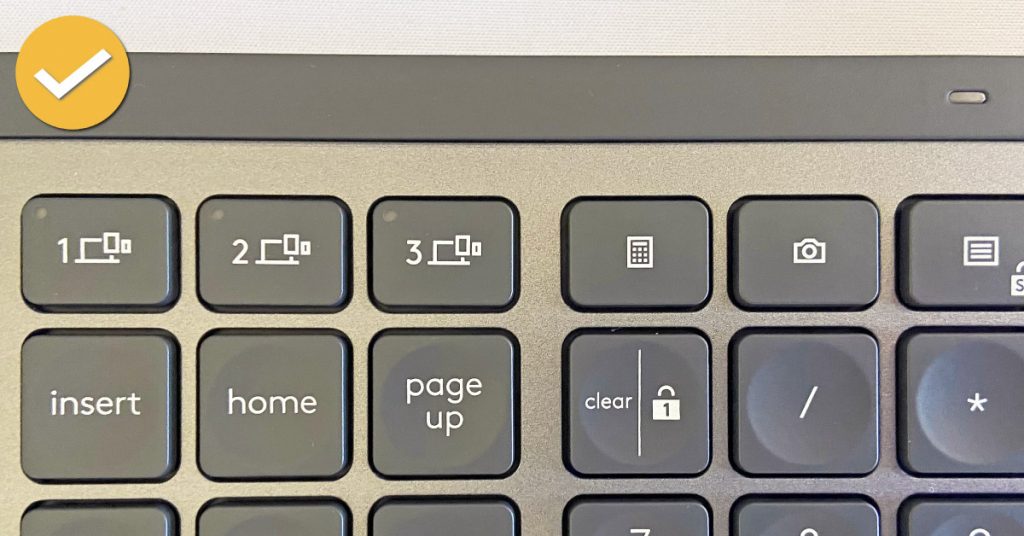 Is MX Keys good for gaming?
While the MX Keys will not offer the same clacky sound and tactile feedback of a mechanical keyboard, it holds its own for gaming.
I even tried using the MX Keys while playing my favorite online first person shooter game, and it performed well. If you're looking for a wireless keyboard without input lag, I experienced no issues with gaming with the MX Keys.
Still, I prefer my mechanical keyboard for gaming.
Who is MX Keys best for?
This is a PC and Mac compatible Logitech keyboard. As a longtime Mac user who now works more from a PC, I've really enjoyed my experience with the MX Keys.
As someone who likes Apple's Magic Keyboard, the MX Keys feels familiar. I think the MX Keys works especially well for PC users who currently own or have previously owned a Mac.
But everyone who types can likely appreciate the stylish looks, solid construction, and fantastic typing experience of the MX Keys.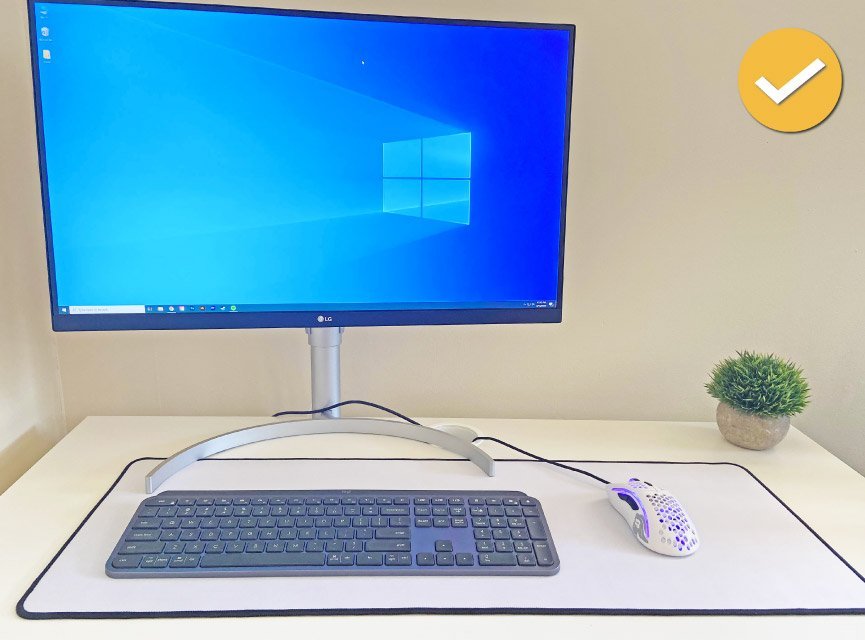 Is MX Keys worth it? 
Due to the price, the MX Keys is not the best beginner keyboard. But, If you're willing to spend the cash on a high quality keyboard for work, productivity, media- practically anything but gaming- the MX Keys is highly recommended.
MX Keys Review: Final Thoughts
Though officially released last year, the MX Keys is some of the best new tech for 2022. As more people have started working remotely, it's no wonder the MX Keys has earned so much acclaim.
It's overall quality has made the MX Keys perhaps the best keyboard for home offices and working from home. 
Thanks for reading our MX Keys Review. Purchase MX Keys here (Amazon).
Up Next: Is this the best affordable massage gun?
Check out our hands-on review here.